Campaign for children with learning disabilities (CLED) is a non-governmental organization in Ghana, which assists children who have learning difficulties. Pupils with special learning needs often remain undetected and then fall short when faced with the challenges of the educational system. That often results in pupils leaving school or their not receiving the documents necessary to be successful on the job market.
CLED has recognized these problems and has made it its goal to inform the public and to establish aid programs in the educational system. The coordinators also designed an extensive concept for further education, which addresses parents, teachers and employees in educational offices. For the second year in a row several educational weekends have taken place in the Kasoa area of the Central Region. All together 84 teachers and 43 administrative employees in educational offices received extra training on three different weekends. This year kinder- garden and elementary school teachers learned about diagnosis and assistance for children with reading disabilities. All of the participants received a handbook (see picture) in which the subject matter is thoroughly described and possible approaches have been outlined. The diagnosis of children with special learning needs and how educators at secondary schools can deal with them were also covered. Aside from this the coordinators of the regional education offices received support with the transformation of politically relevant plans for inclusion. There was a conference between teachers and educational consultants from inclusion schools at which viable strategies for diagnostic and facilitation were discussed. With this work CLED makes an important contribution to the student body with learning disabilities and informs all concerned with its broad offering of advanced training.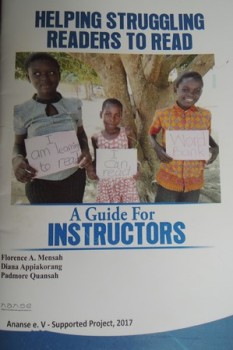 For the period ending in 2018 CLED is already developing another advanced learning program for 250 participants to support children with written language deficits. Here also a handbook is being drawn up. The campaign convinced the Ananse's board of directors and again CLED will receive support during the coming year.