The non-governmental organization Hand in Hand has made it its goal to help mentally retarded children and teenagers especially in the district of Nkoranza-South. For this purpose two Ghanaian special education teachers – Gabriel K. Nkpawiase and Emmanuel Boyan- have been hired and will be travelling to the villages of this district. They find out where mentally handicapped children live and take measures to improve their social situation. Very often these children and their families are suffering from social exclusion from other village members. These teachers assemble the villagers and their leaders and shed light on the situation thus helping to counteract negative attitudes. They also visit the families and discuss together how a child can find support in its own environment. These teachers also organize meetings for parents so that they can work together, helping each other to master the challenges of caring for their children. In Kyeradesoj they opened a room for day-care because many times both parents work and the children were left unattended at home .
The team was especially attentive to the care of children and teenagers who have seizure illnesses. Many handicapped persons suffer additionally from epilepsy in different stages. Very often the population of Nkoranzu-South District still believes that evil spirits cause these seizures. With continuous effective medication it is possible to refute these beliefs and discrimination stops.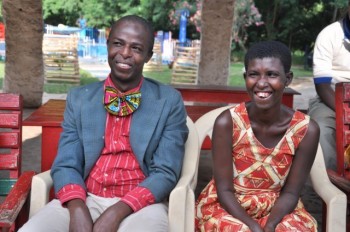 Many mentally handicapped teenagers have no employment possibilities in their villages. They remain at home and are often a financial burden for their families. With the Outreach-Program some of them find possibilities to take up meaningful employment. Some examples are tending goats or sheep, caring for small animals such as chickens or rabbits or making soap. With help from Mr. Nkpawiase and Mr. Boyan two young adults, Simon and Amoakowaa, who worked in the workshop, could return to their villages. They were seen off by the Hand in Hand Community in a little ceremony where they were each given two sheep that hopefully will multiply into a sizeable herd sometime.
This year the Outreach Program received 5,000 € from Ananse e.V. We hope to support this successful program in the coming year and your donations are welcome.
2,860 EUR were collected for the Outreach Program in connection with the anniversary of Ascan Neumann-Cosel. We thank you all for your donations!!!