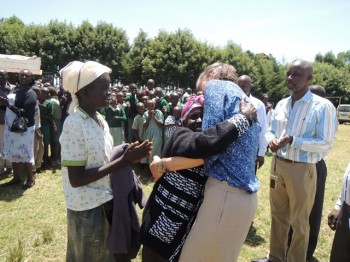 On our travels we visited the Special Education Center in Kapkesosio, which was officially opened in 2013. We were very happy to meet old friends, who greeted us warmly and showed us their project. The buildings are in an excellent state, and paved paths have been laid to give the visually impaired children better orientation. The equipment aids are well looked after and some new material has been purchased. The pupils showed us how they are able to use the aids independently. Another cow has been purchased through the efforts of the Parent Association. The whole community is very proud of this project.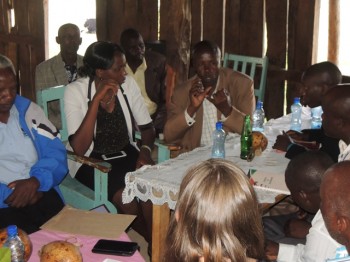 On the occasion of our visit the directors of other Primary and Secondary schools in the area, which teach blind and low vision pupils, met up. The Department 'Special Need' at the University of Kabianga, which trains Special Needs teachers, was represented. Employees of the local education office, as well as blind and low vision adults, also came. We sat together – for the first time round one table – with a large group of experts in the education of visually impaired. It was fantastic and highly productive. Firstly, the aim was to get a complete picture of the support-priorities the institutions in the area were setting. This showed that the visually impaired already had good educational possibilities in the schools. Going on to higher education is also possible. However, offers of training and rehabilitation in skilled trades for visually impaired adolescents and adults were lacking. Ananse and Salus Oculi chaired the discussion, and from the group that was present a team has got together, that is now meeting regularly, in order to prepare a paper on a training center.
This is an example of how Ananse works using networking.