In February 2019 Susanne and her mother Sabine Holm travelled to Kenya to visit some of the projects they support there. It was not easy to visit all the projects they wanted to see within one week, the time allocated for the visit. But our project Partner Mike Ng'eno from Salus Oculi Kenya (SOK) put a big effort in organizing and preparing the tour and worked out an excellent schedule. So we had the chance to meet many locally involved people, talk about ideas and plan the next steps forward.
Vocational Training Centre in Kilifi
We travelled to Kilifi, north of Mombasa, first. Here the Deutsches Blindenhilfswerk (DBHW), based in Germany set up a Resource Centre for visually impaired learners at Kibarani Primary school, 20 years ago. Ananse supported Township Secondary School for Boys and Bahari Girls' High School by providing learning aids, set up income generating projects and financed in-service training for the teachers, to enable teachers teach the visually impaired learners more effectively.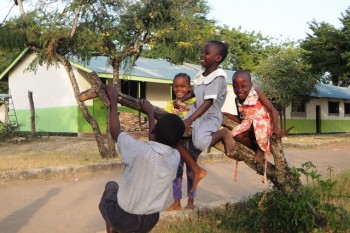 After consultation with the stakeholders on the ground it became evident that there was urgent need to cater for those visually impaired students who drop out of class 8 and Form 4, whose academic advancement was not assured.
The local stakeholders formed a committee to describe and determine the needs and set up a Vocational Training Centre together with Ananse, DBHW and SOK.
We had the chance to meet the committee in a formal sitting, and in a very constructive atmosphere we discussed and agreed on the next steps. To get things started we agreed on the channel of communication and responsibilities for each member of the committee.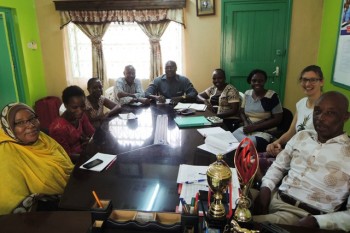 Support of various Primary Schools that teach as well blind and low vision learners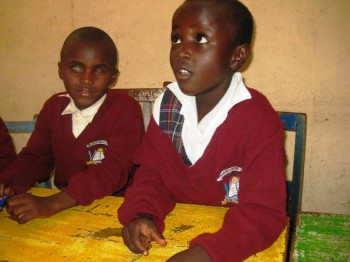 After Kilifi we visited various schools where we have been active before to support the visually impaired learners and their teachers; for example by setting up a Resource Centre, providing learning aids and teaching materials or establishing an income generating project. We visited Mlimani Primary School in Nakuru, Kapkesosio Primary School, Korara Special School and Korara Secondary School in Bomet. Everywhere we met highly qualified special needs teachers who are fully committed to their jobs. We were very impressed by the positive learning atmosphere in the classroom and the creative ideas of teachers to prepare teaching-learning materials by themselves. These teachers travel into the villages as well to consult parents of visually impaired children and create awareness. As a direct result of these visits, awareness and appositive attitude has been created, and now blind and low vision children are no longer hidden by parents in the villages. They now send their children to school voluntarily. With more and more coming into these schools, it is anticipated that very soon the facilities; braillers,text books, magnifiers and the rooms will be inadequate.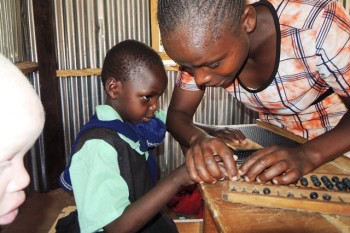 When we visited the schools, we sat down together to analyse the individual situation, talk about the next steps to be taken and who can help to realize these steps. According to Ananse's philosophies we helped networking so that parents and schools, stakeholders and the education office all come together to realize ways to improve the situation of visually impaired learners. When we talk about setting up buildings like classrooms and boarding rooms it is required that the government gets involved and takes over responsibility. Equipping schools with the necessary facilities like braille machines, magnifiers and textbooks Ananse can help.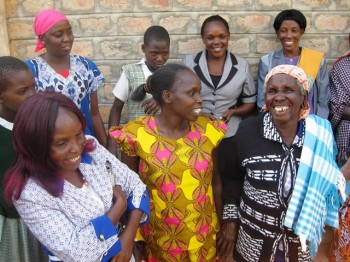 Betty, a "shining example"
At the end of the week we met Betty Chepkirui Milgo who's case proves how individual support can give a very positive impact on the system. Mike Ng'eno keeps contact to so many blind and low vision persons we once supported and who now support our projects again. One of them is Betty.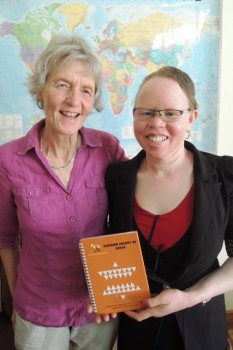 10 years ago we met her, a young low vision girl with albinism who just finished Primary School. See Africa, Ananse's partner, supported her to continue schooling and to go to Secondary School by paying her school fees. Betty did very well and was enrolled in a University in Kenya to study Special Needs Education, specializing in Special Needs Education. She started her Masters studies at a University in Nairobi. Betty is a very strong-willed young woman who has taken the right to success. She doesn't that people with albinism suffer from social-economic and political injustice. She travels into villages to counsel people with albinism, create awareness and help them fight for their rights and be totally independent as a free member of the society. Betty calls herself ''a shining example'' – and she is absolutely right.