By means of development cooperation, the charitable association Ananse e.V. supports projects for people with special needs. Its members work only on a voluntary basis.
Special needs
People who are disadvantaged with regard to their personal development and participation in society have special needs.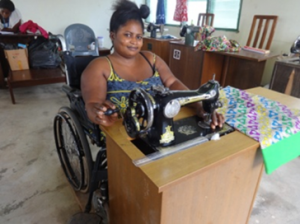 Disadvantages result among other things
from social exclusion
from complicated access to education
from complicated access to medical care
Especially in developing countries people with disabilities are affected by disadvantages. Other groups of persons (women and girls, children) experience disadvantages that are additionally intensified by the existing poverty in such countries.
Development cooperation
Ananse's concept of development cooperation focuses on local cooperative work with people. With reference to the support of projects, Ananse takes for granted durable personal cooperation with person affected and confidants.
Our objective is to design and improve situations of the people accordance to their wishes by means of projects. In this context Ananse e.V. concentrates on projects and measures in the following three areas:
social and professional integration
education and training
political and personal emancipation
The cooperation is characterized by an intensive, professional, cultural and personal exchange: Our partner organizations in Ghana and Kenya present project ideas out of their own work field or passed on from the target group to us. The project conception is discussed and responsibilities are distributed. Ananse`s responsibibilty is to collect funds for the project, the partnerorganisation`s duty is to supervise the constructions, to documentate the projects`progress and to submit a final report. If possible the target group or their families take over a local responsibility as well. For example they help constructing a building or collect food items.
The realization of the projects is documented and knowledge is passed on to donators and to those who are interested. In this way, the cooperation is a gain for all persons involved.