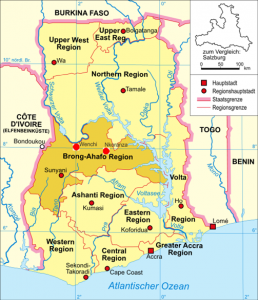 The story behind our projects in Ghana:
The first project of Ananse e.V. is the benefit of the residential village of Hand in Hand in Nkoranza. Since the foundation of the association in 2000, it has been supported. Susanne Holm and Rüdiger Gailing lived and worked there last year.
Nkoranza is located in the Brong Ahafo Region in the middle of Ghana. The inhabitants earn their living by farming. A large part of cultivated land concentrates on yam, cassava and maize. Most of the people are affected by poverty and unemployment so that many of them go away from that region in order to live in big cities like Kumasi and Accra.
The cooperation with Hand in Hand and specially the benefit of the residential village and the garage in Nkoranza are intended to be long term. The cooperation can be seen as a partnership. Ananse e.V. plans to benefit the construction of the center together with Ghana e.V. after the construction of the training centre in Wenchi.
Our projects and partners:
Hand in Hand in Nkoranza

Outreach program

Materials for all special classes

 CLED (Campaign for learning disabilities)

Vocational training centre